ExO Greece with Kostas Lafkas invites you
Discover the Techniques Behind the World's Fastest-Growing Companies


Tuesday, June 6



6pm GMT +3
Register today, and don't miss out on this opportunity to learn and connect. This is your opportunity to start building an Exponential organization and access the new Exponential Organizations 2.0 Higher Shareholder returns
Discover the Power of Exponential Organizations
This is your opportunity to start building an Exponential organization and access the new Exponential Organizations 2.0. Exponential Organizations 2.0 offers valuable insights into how companies can achieve exponential growth and impact by leveraging the latest technologies. You will gain a deeper understanding of the exponential mindset and how to apply it to your own organization to stay ahead of the curve.
Join our watch party and learn the practical strategies for identifying and implementing exponential technologies in your business, helping you to drive innovation and achieve exponential growth.
Join us in person

as we connect with Salim Ismail and Peter Diamandis
This event presents a unique opportunity to learn from their expertise and connect with like-minded individuals who share your passion for making a positive change in the world. Join us as we take a step towards creating a better future for all.
Join us at our upcoming event, where you'll have the opportunity to gain valuable insights from two renowned thought leaders, Salim Ismail and Peter Diamandis. Through sharing their vast knowledge and unwavering dedication, they will provide you with practical strategies and actionable steps for creating a 10x impact in the world.


Tuesday, June 6



6pm GMT +3
Are you part of an

Exponential Organization?
Organizations implementing the ExO Success formula have delivered over:
Higher shareholder returns

Better revenue growth

Higher profitability

Better asset turnover


Attend live for the opportunity to get a session with Peter and Salim.



Salim and Peter will share their insights and speak with industry leaders.



Get the tools you need to create a thriving organization in the 21st century.



Exclusive access to the New Exponential Organizations 2.0 Book.



Use AI-X, our AI ExO ChatBot, to gain valuable insights and advice.



Learn how to navigate the future with confidence.



Prepare your organization for success in uncertain times.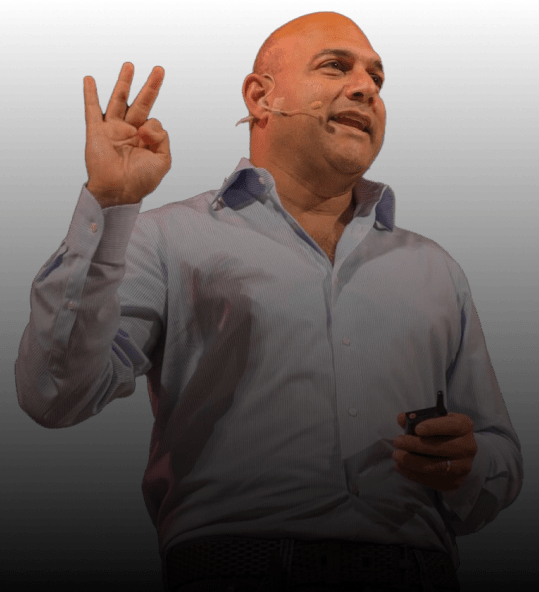 "Exponential transformations rarely come from incremental thinking."
Salim Ismail is a technology strategist, entrepreneur, and co-author of "Exponential Organizations", offering a new playbook for exponential growth and impact. Salim helps organizations embrace exponential thinking, such as working with the Vatican and founding Singularity University to educate on leveraging technology for global challenges.
"The day before something is truly a breakthrough, it's a crazy idea."
Peter Diamandis is an entrepreneur, author, and founder of the XPRIZE Foundation, which incentivizes innovation and solves global challenges. Peter values exponential technologies and believes in creating abundance and solving problems through creativity and innovation. Examples include the XPRIZE for space exploration and the development of 3D printing for medical applications.